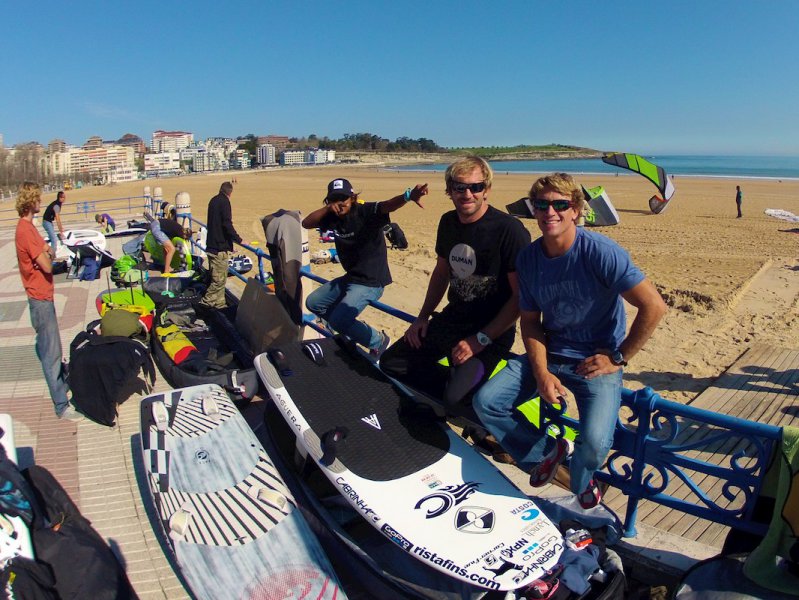 Author: Damien Leroy
The International Sailing Federation is testing the viability of including kiteboarding in the Olympic games. Florida's Damen Leroy reports on the action.
Woke to a beautiful day in Santander, Spain with perfect blue skies and snow on the foothills. Absolutely spectacular! Today was a big step for kiteboarding as a sport and our hunt for the Olympics. We ran 2 Windward/Leeward Course Races in the beginning, which the wind was on the light side, most everyone was on big kites. It was amazing as all the different classes of boats were right next to us racing as well on there own courses. As the goal of this demonstration and evaluation is to try new things and show everything kitesurfing has to offer. We then ran a full Slalom round and then returned to the C.E.A.R. Sailing Club to discuss how things went with the ISAF Judges who were observing the 2 Formats we ran for them today.
—
As the ISAF group headed back to the center, most kite surfers took off and went sailing with all the boats and  other classes out on the water. Lets say everyone was in awww. Heads Turing… Great day for kitesurfing! I can only say things are looking great! Really mark my words get ready  I am a true optimist….
It was a great day for myself as I managed to take bullets in all events and races. It is not so much about the winning as this is to represent our sport, but felt good to know I can still hang with these incredible races like World Champion Mr. Johnny Heineken. Tomorrow we will try out some newer formats like Enduro and Short Track.  It will get very interesting, and it will be good to see how the ISAF judges perceive these new formats.  Fingers crossed! —Damien Leroy

https://www.kitepoint.it/wp-content/uploads/2012/03/Spain-S11.jpg
600
799
Carlo KP
https://www.kitepoint.it/wp-content/uploads/2018/08/logo_asd_kitepoint_header-300x51.png
Carlo KP
2012-03-23 15:04:20
2012-03-26 15:26:52
ISAF KITEBOARDING OLYMPIC TRIALS