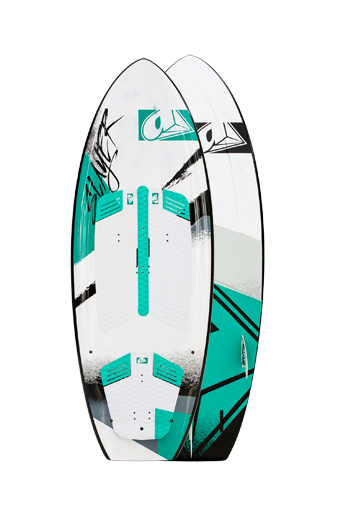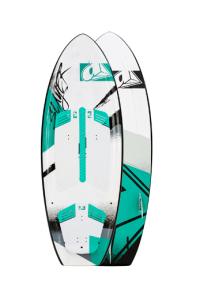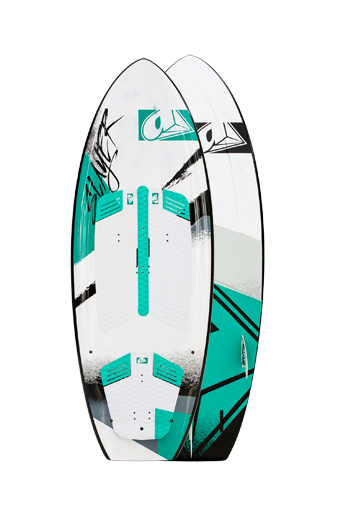 Vi presentiamo la Slayer, la nuova arma di Airush per giocare e divertirsi in manovre e trick con vento leggero e acqua piatta.
Quest'tavola è stata pensata e costruita per tutti i kiters che hanno voglia di avvicinarsi ad un nuovo style di kitesurf, quello fatto in lightwind – strapless dove il piacere assoluto è quello di saltare e giocare con la tavola.
Description
Introducing the Slayer
With a significant trend towards customers riding surfboard on flatwater, focusing on jumping, carving and surface tricks, we developed a unique new product.  The evolution of the Slayer has opened up an extremely fun aspect of kiting for riders who are not blessed with waves or stronger winds.  The brekathrough comes with the step bottom, which creates incredible stability; this enables intermediate riders to ride strapless with ease, even at 60cm wide.  The Slayer 54 serves up a compact and dynamic ride for higher wind and bigger air.  Its the new style.
The Slayer features a Non-Stick Tail angled 45degrees to prevent the board from catching while riding the board fins first. This makes the Slayer extremely forgiving and skatey when learning new strapless tricks like 180s and shuv-its.
The duel step bottom found on the Slayer is positioned just behind the front foot creating a double planning surface. The board therefore remains neutral between the back and front foot adding more stability at speed.
The Strakes featured on the Slayer 54 and 60 channel water through multiple V steps which improve drive when turning. They also break water flow limiting the bounce under the nose when carving hard. These two attributes increase the comfort and control of the Slayer giving more mobility and movement for the this size board.
Exclusively on the Slayer board, the Arch Bar Pad gives a better grip and hold when riding strapless. This arch bar becomes especially convient when riding with the larger fins featured on this board.
Boards Accessories:
Slayer 54: 2 Airush Directional Straps Included
Slayer 60: 3 Airush Directional Straps Included
https://www.kitepoint.it/wp-content/uploads/2013/04/Kitepoint_scuola_kite_SLAYER.png
520
347
Carlo KP
https://www.kitepoint.it/wp-content/uploads/2018/08/logo_asd_kitepoint_header-300x51.png
Carlo KP
2013-04-19 06:42:19
2013-04-19 06:44:10
AIRUSH SLAYER... ACQUA PIATTA E VENTO LEGGEROI